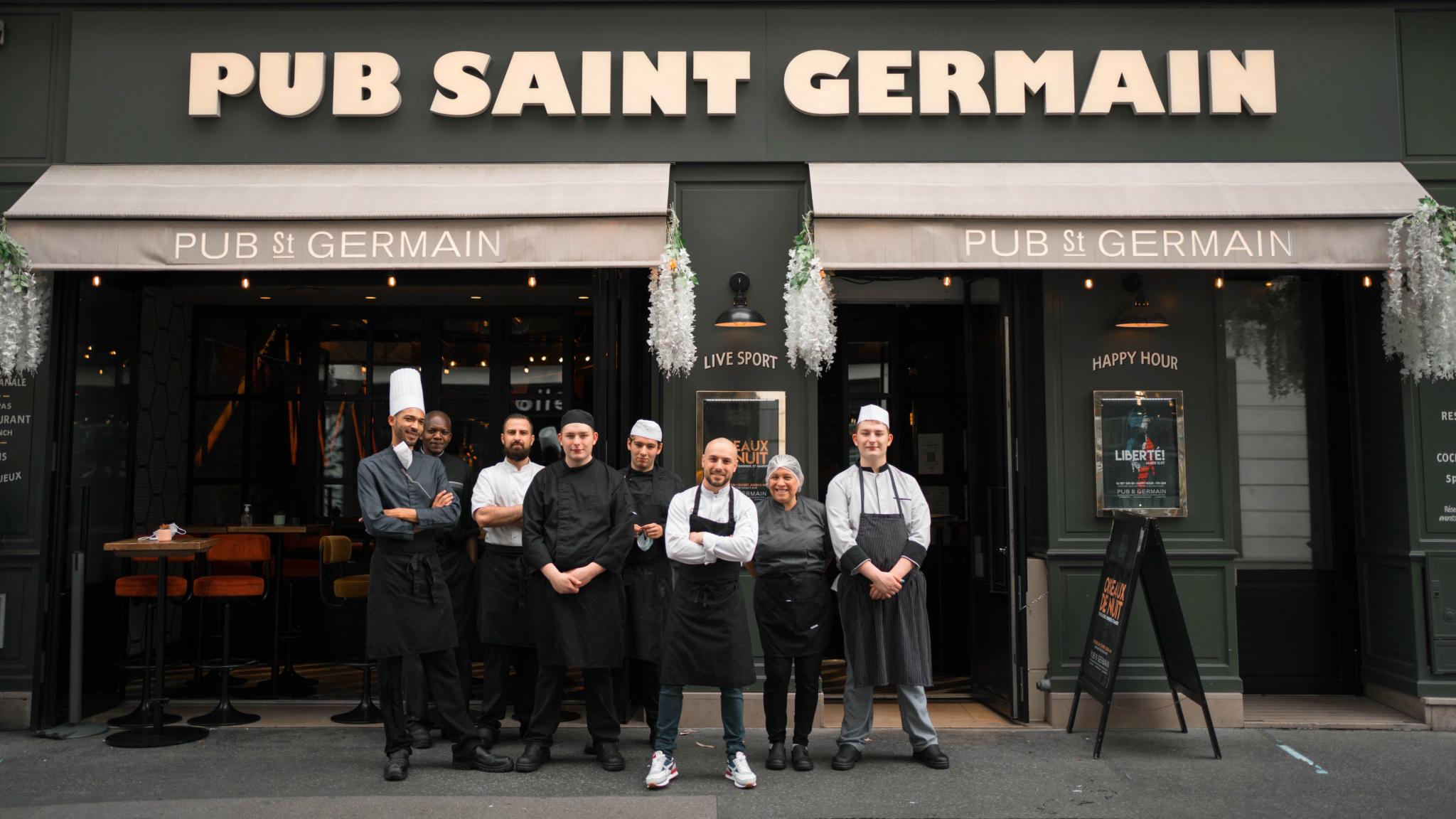 07.09.2021
SEPTEMBER 2021
WHAT'S NEW ?
The new school year in 2021 is off to a flying start
in this Saint-Germain-des-Prés landmark
The new school year in 2021 is off to a flying start in this Saint-Germain-des-Prés landmark
Night opening and night dining, a new Autumn menu, clubbing every weekend and a new brunch every Sunday.
A chic restaurant with a friendly atmosphere
In the kitchen, chef Jérémy Pereira, who worked at Ladurée and the Matignon, has redesigned the menu of the PUB St GERMAIN to revive and modernise the great classics of French gastronomy.
Let's take a look at some of the dishes on the menu ?
Crunchy vol-au-vent with free range poultry and mushroom duxelles, beef tartar with chipotle-injected egg yolk, croque-monsieur with melting Comté cheese... For the sweet tooth, profiterole-style chouquettes, petit-beurre XXL baked to order, seasonal fruit salad... You get the idea: in September 2021, we're going to have a treat!
Restaurant and night bar 7 days a week
Looking for an all-night venue in Paris?
When the evening comes, the place reinvents itself as a festive and cosmopolitan restaurant. On the programme for the Night Owls, music and good food to be shared until the early hours.
From 11pm, the brigade moves upstairs. Before getting down to business, we sit down to taste a festive night menu and enjoy a sublime T-Bone prepared before your eyes and cut up at the table, to be accompanied by a good bottle from our cellar, followed by a well-mixed signature cocktail and finally, it's time to dance the night away!
Clubbing
It's hard to choose where to go out in Paris this autumn 2021?
Every weekend, from Thursday to Saturday night, the Main Bar, at the main entrance, offers an eclectic and cutting-edge live DJ programme that will make you want to dance the night away: the spirit of the St-Germain-des-Pres party has not aged a bit!
The return of the brunch from 19 September 2021
If you're in the mood for a chic Parisian brunch, the PUB St GERMAIN is the place to be.
Here, no buffet, but two generous and gourmet brunch formulas served on a chic tiered tray to share with family or friends: assorted finger sandwiches, carefully sourced charcuterie and cheeses, brioche French toast, homemade frenchy mignardises, seasonal fruit salad... To complete the menu, a choice of boiled, scrambled or Benedict eggs... A good excuse to debrief about the start of the school year in 2021!
The plus for families: a children's menu and above all a qualified childminder who will take care of your little ones in a dedicated room while you enjoy your meal in complete relaxation.
Every Sunday from 11:30 am to 4 pm.
And for your private or professional events
Private parties, birthdays, weddings, end of year & Christmas parties, company events, cocktail parties or product launches, the PUB St GERMAIN offers to privatise its different spaces.
Choose from our different ambiances: Green Room, Wine Bar, Cocktail Bar, Petit Parrot...
Spread over four floors, our establishment is suitable for all kinds of personalized private or professional events in the heart of Paris.
Our chef also offers cocktail buffets and group menus.
To find out more about our events offer, please ask for our brochure: events@pubsaintgermain.com
Information and booking :
PUB St GERMAIN
17 rue de l'Ancienne Comédie, Paris 6
www.pubsaintgermain.com